Clear-pak Australia produces clear plastic and cardboard Cylinders and Tubs for the Confectionery, Giftware, Cosmetics, Gourmet food, Stationary, Flowers, Apparel and Pharmaceutical markets.
Clear Cylinder Packaging made to order, plain or printed – make you product stand out in a Clear Cylinder Container. Add branding by Printing, Foiling, labelling or inserting a Cardboard Insert. Clear Custom Gift Boxes are a great way to showcase a product. Clear Cylinder Tube Packaging can be produced in Diameters ranging from 45mm to 210mm. Lengths up to 1 metre.
Clear Plastic Packaging from Clear-pak is a sustainable alternative, using recycled and recyclable materials to create quality packaging that adds value to your product.
We produce custom designed transparent plastic Cylinders and Tubs for 360 degree visibility. Also available as welded seam and base using no adhesives.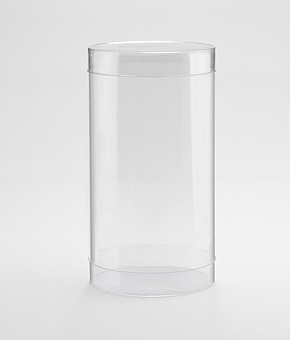 Clear-pak uses a variety of materials including PET, Recycled PET/GAG with a minimum of 50% post consumer waste content, PVC, Polypropylene and Biodegradable Plant based materials (Vacuum Form only). Cardboard is also available in various grades and colours. All material is 100% recyclable and all materials and processes are approved for direct contact with Food and Pharmaceutical products.
Package your product to sell – contact Clear-pak Australia now on 1300 833 969 if you are in Australia or for international customers, contact us on +61 3 9796 4936.